Quality 35mm & Super 16mm images
available to Producers for Film, Programme, Commercial, Corporate Presentation & Multi-Media Use
Digi-Beta, Beta SP (film & electronic formats by arrangement)
Clients include: BT, Ballyk, Calor Gas, IDB, Down Lisburn Trust, ESB, Shell
Reel 1 viewing tape available
Pal/NTSC VHS (see below).

Reel 2 in preparation
(includes all-Ireland Scenics - new material being added all the time!)
REEL 1 CONTENTS:

1. TIMELAPSE Example: Commissioned timelapse filming and presentation edit (internal use only) for BT Northern Ireland - opening of "Riverside Tower"

2. Northern Ireland Timelapse Stock Footage Library

3. Northern Ireland Aerial Stock Footage Library

4. Project Example: St. George's Market (Belfast) Timelapse project material


REEL 1 (VHS) available for £15stg + P&P (or international equivalent) from:
Miracles Production, 154 Upper Newtownards Road, Belfast BT4 3EQ
Tel: (028) 90473838 Fax: (028) 90473839 film@miraclesproduction.com
MIRACLES PRODUCTION ACCEPTS COMMISSIONS FOR QUALITY SUPER 16mm TIMELAPSE FILMING TO YOUR PROJECT BRIEF- contact: timelapse@miraclesproduction.com
What's timelapse?
Time-lapse photography is defined as taking moving pictures at any rate slower than the standard 24 frames per second currently used in the movie industry.
Even old footage that was filmed at 16 frames per second when shown at 24 fps can be said to be time-lapse because the observed action is speeded up. Time-lapse photography is often portrayed as a novelty shot to add comic relief, but the true nature of time-lapse photography shines when motion studies are involved. Objects such as clouds, plants, and chemical reactions that take days or months to run to completion can be filmed and speeded up by factors of millions. An acorn will sprout and appear to grow into a small tree in the matter of a few seconds. These films then become the jewels of the scientific world, new processes and observations are often discovered. The time-lapse photographer enters new territory with each assignment. Few people have the patience, or dedicated equipment to enter this field. (E.M. Kinsman)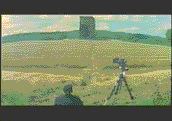 Reel 2 coming!

We may already have what you're looking for... Contact details as above...
NOTICE: STOCK MATERIALS OFFERED TO PRODUCERS IN ALL FORMATS ARE SOLELY COPYRIGHT © MIRACLES PRODUCTION, BELFAST 2000 AND MAY NOT BE REPRODUCED OR DUPLICATED IN WHOLE OR PART IN ANY MANNER AT ANY TIME FOR ANY PURPOSE WITHOUT THE EXPRESS CONSENT OF MIRACLES PRODUCTION!