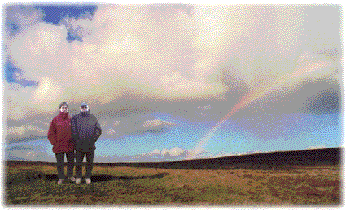 Direction, Art Direction and Production Design -
credits range from corporates & commercials to broadcast series, shorts & features.
Independent Short Films- sales to BBC & European satellite, plus extensive festival exposure & touring arts project participation.

Northern ireland Timelapse & Aerial Film Footage Library
an extensive selection of quality film images of Ireland, available to producers for film, programme, commercial, corporate, presentation & multi-media use.
As featured in "Ballykissangel", "Our Story" Millennium Dome project and corporates & commercial productions for: BT Northern Ireland, First Trust Bank, Down Lisburn Trust, ESB, Shell, etc.

As MIRACLES PRODUCTION, Dave Johnston produces and directs and Gillian Devenney produces & art directs commercials, promos and corporates (too numerous to mention) on 35mm, 16mm and Broadcast Video formats for blue chip companies & organisations.

Gillian Devenney as Art Director & Dave Johnston as Director, also have freelance credits for other production companies and national/local broadcasters (feature films, series, commercials, corporates).
Dave Johnston and Gillian Devenney
offer freelance Creative Services across a broad spectrum of creative disciplines.
Both are ex-Advertising Agency Creative Directors.
Both worked in advertising until 1991 & 1992, respectively... (D&AD nominations. Local & International advertising awards. Long lunches etc.), ...acting as Agency Producers on many corporate videos and commercials.
Both quit positions as Creative Directors of local advertising agencies (and never looked back).

DAVE JOHNSTON
From 1976 with A.V.Browne Advertising
to Lashbrook Advertising
to A.V. Browne Advertising
to BPA Advertising
to BPA McCann
to McCann Erickson Belfast
to MIRACLES Production in 1991

GILLIAN DEVENNEY
From 1986 with Coal
Advisory Service
to BPA McCann
to McCann Erickson Belfast
to MIRACLES Production in 1992


Gillian's Art Direction & Assistant Art Direction CV